A trailer for the "action disaster drama film"
9/11
was released last week, to the shock of many Americans. The movie is set to premiere on September 8 and stars Charlie Sheen — who has publicly theorized about American government involvement in the terrorist attack on the Twin Towers. The film's release poster reads: "The world watched it. They lived it," alongside the pictures of co-stars Charlie Sheen and Whoopi Goldberg. The actors play fictional characters trapped in the Towers; yet
9/11
will not use computer generated imagery to showcase Sheen and company's made-for-the-big-screen escape. Actual footage of the 2001 terrorist attack that left close to 3,000 people dead and another 6,000 wounded will be used instead. The tragedy of 9/11 has rocked Americans to this day. In 2011, the 9/11 Health and Compensation Act was signed into law by President Obama. $4.3 billion was designated to aid with the physical and mental damage and economic loss experienced by survivors of the terrorist attack. The City of New York has three health commissions dedicated to victims of the attack on the World Trade Center. Extensive research found that no less than 10,000 civilians, firefighters, and police officers were diagnosed were PTSD as a result of trauma experienced on September 11, 2001. Twitter users are sounding off against
9/11
, with many arguing that the attack and its aftermath are far too horrendous to thousands of Americans to be depicted in this movie. Here are a few examples:
I want to go see this 9/11 movie so I can throw tomatoes at the screen, but I also don't want Hollywood to get a single dime from it.

— ? (@Kirabetts30) July 27, 2017
I watched a trailer for a movie called "9/11" starring Charlie Sheen and it's awful and manipulative and makes me mad at everyone involved.

— Brandon Shockney (@Beeshock) July 21, 2017
Theres no need to make a movie to dramatize events that are beyond dramatization or to make anyone relive the horror https://t.co/Ap7NfBBEC6

— Mel (@piggyprincess13) July 25, 2017
Why is Charlie Sheen starring in a movie about 9/11? Whoever put together this cast needs to get back handed.

— Wesley Wood (@xotikkwow) July 22, 2017
How will such a controversial film fare critically — or in the box office? Time will tell. The film will premiere three days before 9/11's 16th anniversary.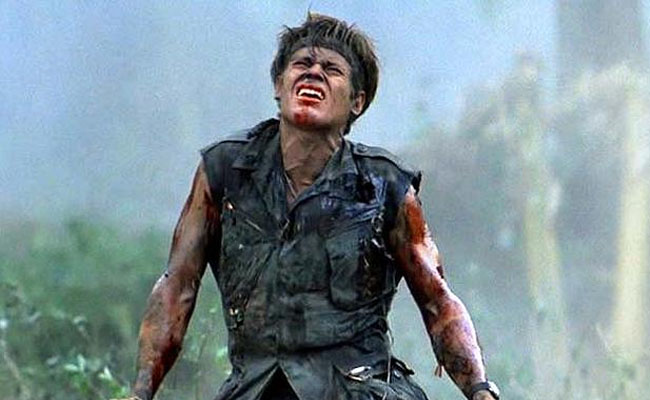 What's the Cast of 'Platoon' up to Today?
Just over 30 years ago, director Oliver Stone unleashed his dark, action-packed vision of the Vietnam War on America. Platoon left a lasting mark on audiences and continues to influence pop culture to this day. The movie's huge cast produced gritty, critically-acclaimed performances that haunted audiences, and the public wanted more…
click here to read more