Amelia Earhart is iconic; the heroine's courage and determination to "defy the odds" is bona fide Americana. The accomplishments of the record-breaking pilot have inspired women to pursue careers previously deemed "unconventional" for females. Perhaps most noteworthy is her disappearance in 1937 that remains unexplained. However, a new documentary called
Amelia Earhart: The Lost Evidenc
e is providing a new explanation. The
two-hour special
aired Sunday night on the History Channel. The documentary featured Shawn Henry, former FBI executive assistant director, as he investigated claims about Earhart's disappearance and consequent cover-up by the American federal government. Les Kinney, a former U.S. Treasury Agent, alleged that Earhart and her co-pilot Fred Noonan were the "first casualties of World War II," executed by the Japanese after crash landing in the Marshall Islands in 1937. He also claimed that the American government knew the female aviator's whereabouts, and made no effort to save her or Noonan. A long-lost photograph that Kinney unearthed from a top-secret National Archives file circulated the internet late last week. The producers of the documentary boasted confidence that this recovered photograph shows Amelia Earhart, Fred Noonan, and their destroyed plane. The documentary followed Henry's trip to a forensic analyst, who estimated a "99.7 percent or higher probability that the photograph is authentic and not manipulated." He observed the facial structure of Fred Noonan, and noted that what appears to be a plane in the photograph is 38 feet long — the same size as Earhart's Lockheed Electra. Kinney presented old, previously classified documents from the Naval Intelligence Committee. One report closing the Earhart/Noonan case (noteworthy: after just two weeks of investigation) stated that, "…the unfortunate fliers were not above water upon conclusion of the search." However, another misfiled Naval Intelligence Committee document mentioned Amelia's name again; this time as "a prisoner in the Marshall Islands." Kinney's theory: The sky was extremely cloudy, and Earhart flew her Lockheed Electra further north than she intended. The Earhart/Noonan duo was supposed to re-fuel the aircraft on Howland Island, but crash-landed on Milli Atoll. They were transported on a Japanese barge to neighboring island Jaluit, where the photograph in question was taken before World War II. Japanese military officials believed they were American spies. Allegedly, they were sent to the island of Saigon, where they were imprisoned and later executed. Why wouldn't the American government interfere? According to
Amelia Earhart: The Lost Answer
, it is an easy answer. With the horrors of the First World War in the nation's rearview mirror, the federal government would do almost anything to avoid another large-scale, international conflict. The documentary reports that an accusation that the Japanese were holding Earhart prisoner on Saigon could have hurled the U.S. into the middle of another war. Of course the United States' efforts to remain isolationist were ultimately proved futile after the attack on Pearl Harbor. Later in the documentary, Henry decided to travel to Saigon to further investigate Kinney's claims. With the help of a translator, the FBI veteran interviewed two natives who claimed to have seen Earhart when they were children. Saigon native Josephine Blanco remembered seeing two white people dressed in aviator garb when she was walking home from school in 1937. Her mother urged her to keep quiet. Another woman named Anna recalled the horrifying sight of an execution. She saw a Caucasian person with short hair and pants. Later, she assumed he was male, beheaded and kicked into a shallow grave by Japanese soldiers. According to the documentary, a group of archaeologists found bone fragments on the island of Saigon. The fragments were tested and found to be the remains of a roughly 40-year old female. Amelia Earhart was 39 when her plane crashed.
The Lost Evidence
crew excavated the area where the bone fragments were initially found, but they did not find any more remains. However, they did find debris from a plane that matched Earhart's Lockheed Electra.
People React to the Amelia Earhart documentary
The discovery presented compelling evidence backing Kinney's theory, and this was met with excitement and intrigue. The hashtag #EarhartLostEvidence on Twitter allowed a hub for viewer discussion on Sunday night.
Historians now believe Earheart crash landed in the Marshall Islands, meanwhile the locals have know this for decades #EarhartLostEvidence

— stephanie pearson (@steph_pears) July 10, 2017
Did Amelia Earhart survive? #EarhartLostEvidence I've been engrossed in this story for decades. Woman of great courage, #adventure https://t.co/bcBOYwllEm

— Danni Sabota (@dannisabota) July 5, 2017
That's what gets me, the Marshall Islanders tell the story of Earhart's crash landing as part of their oral history. #EarhartLostEvidence

— MorganClaireGarrison (@MorganClaireGar) July 10, 2017
Of course, the Earhart mania of the past week also attracted some skepticism. Mike Campbell is the author of the 2012 publication
Amelia Earhart: The Truth at Last.
The book's cover features the tagline: "Propaganda Versus Fact in the Disappearance of America's First Lady of Flight." "
This photo is absurd
," Campbell told
Inside Edition.
"The claims that are being made about this photo are irresponsible. There is no one in this photo that remotely resembles Amelia Earhart. There is no way to determine that is even a female." Debate over how Amelia Earhart met her end remains prevalent. However,
The Lost Evidence
provided untapped historical insight that is impossible to ignore. If Kinney's theory proves true, Shawn Henry believes that "this could be the biggest government cover-up of all time."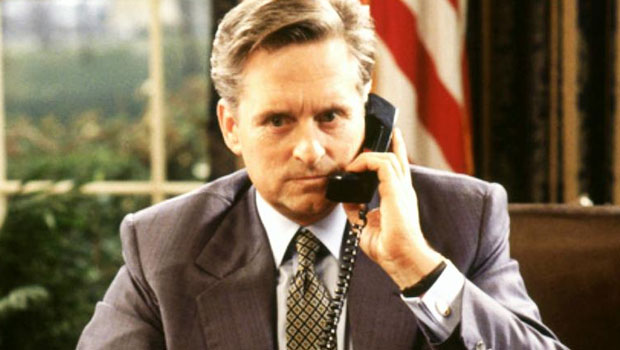 Best Fake Presidents
People have been playing the President of the United States in movies and television for many years. It's a great role to play. Powerful. Assured. Intelligent. Sometimes, they can be a little bit zany depending on the character of the president they are playing. Either way, it's always fun to…
click here to read more